About Our Hillsboro Dental Office
Offering Quality Dental Care to Families in Hillsboro and Beyond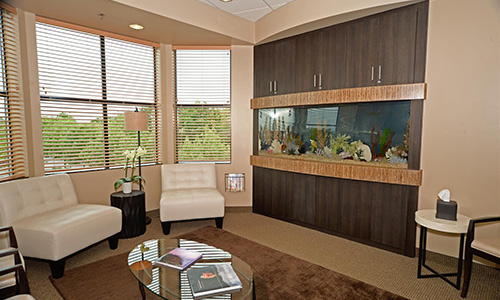 The Dentists at Orenco Station strives to efficiently, safely, and comfortably serve the general, cosmetic, and restorative dental needs of Hillsboro families. Our beautiful, state-of-the-art office includes the latest in dental technology, cozy treatment rooms, and a very friendly team of professionals. You'll always receive compassionate, considerate care from them, and they will always do what they can to ensure your visit is pleasant and comfortable. We want to give you a five-star experience you'll look back on fondly well after you leave our office.
At the family, cosmetic, and restorative dental practice of Drs. Brandon and Malinda Kearbey, we put forth our best efforts to make patients feel at ease during appointments. We offer amenities in our lobby and treatment rooms. We also use paperless charting, which makes it easy to keep, transfer, and store your medical records, and we use digital X-rays the safest way to take radiographs of your teeth. Plus, with the sedation dentistry options we offer, you can look forward to an anxiety-free treatment while you're with us.
Learn more about Drs. Brandon and Malinda Kearbey, and the team who will care for you while you're at our Hillsboro dental practice:
Dr. Brandon Kearbey and Dr. Malinda Kearbey provide family, cosmetic, restorative, and sedation dentistry to Hillsboro. They understand the special needs and expectations of families and professionals. The Dentists at Orenco Station also serve the communities of Forest Grove, Beaverton, Cornelius, and Rock Creek. We invite you to make your appointment now!
Our Mission Statement
ex·cel·lence
Noun
The quality of being outstanding or exceptional.
Providing a dental experience that exceeds expectations with personalized, focused care.
Delivering the highest quality care through our commitment to current advanced dental education and implementation of the best technology and materials.
Participating in the community to improve the lives of those around us.