Hillsboro Cosmetic Dentist
Smiles Made Beautiful with Cosmetic Dentistry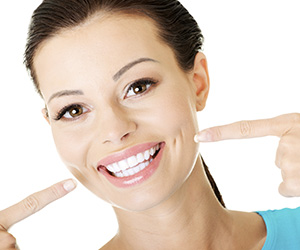 At the Hillsboro office of Dr. Brandon Kearbey and Dr. Malinda Kearbey, our cosmetic dentistry options can renew the beauty and health of your smile.
Cosmetic dentistry can correct all kinds of problems that might impair your confidence and the appearance of your teeth. Maybe your enamel is stained or you have chips and cracks. Perhaps you have gaps or missing teeth. Cosmetic dentistry can fix these issues and more.
You may need help improving your oral health before we can begin cosmetic treatment. In such cases, we may recommend services like periodontal therapy, root canal therapy, or fillings. Sometimes, cosmetic dentistry is used to complete a full-mouth reconstruction. At The Dentists at Orenco Station, we will create a personalized treatment plan that may include restorative dentistry, too.
Two of our most popular cosmetic dentistry services are teeth whitening and porcelain veneers. If you'd like a brighter, more healthy-looking smile, we have both in-office and take-home teeth whitening options. In addition, we can cover up dark spots, cracks, chips, and gaps with a cosmetic service known as porcelain veneers. At the Hillsboro office of The Dentists at Orenco Station, we can use cosmetic dentistry to dramatically change your smile and your life.
Dr. Brandon Kearbey and Dr. Malinda Kearbey provide family, cosmetic, restorative, and sedation dentistry to Hillsboro. They understand the special needs and expectations of families and professionals. The Dentists at Orenco Station also serve the communities of Forest Grove, Beaverton, Cornelius, and Rock Creek. We invite you to make your appointment now!