Dentures – Hillsboro, OR
Bring Back Your Brilliant Smile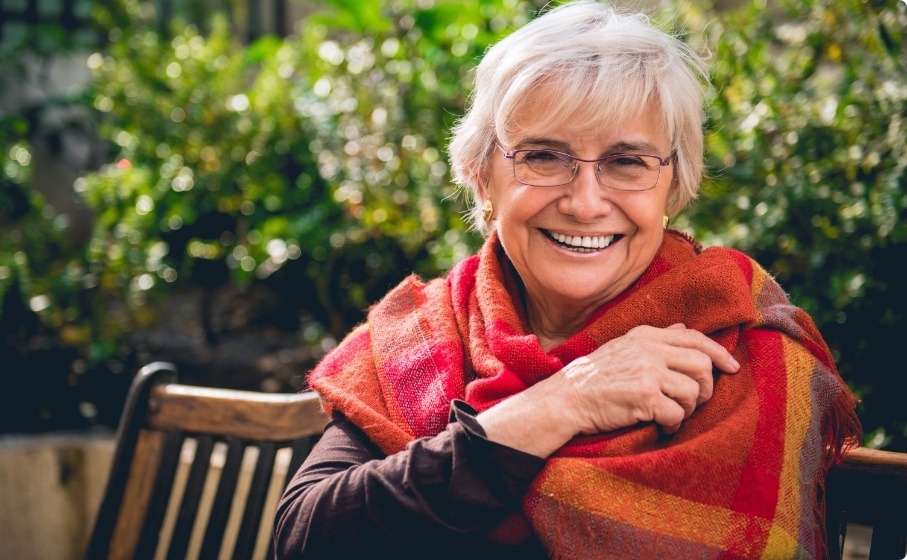 Do you find yourself struggling to eat your favorite foods because of tooth loss? Whether you're diet has taken a hit or you simply aren't as social as you'd like to be due to your smile, you don't have to settle. Tooth loss affects millions of Americans every day, which is why dentures in Hillsboro are a fantastic solution for taking back your favorite activities and improving your quality of life. The Dentists at Orenco Station is happy to take your call and get you set up with a treatment plan for dentures, so don't wait to get in touch with us today!
What Types of Dentures are Available?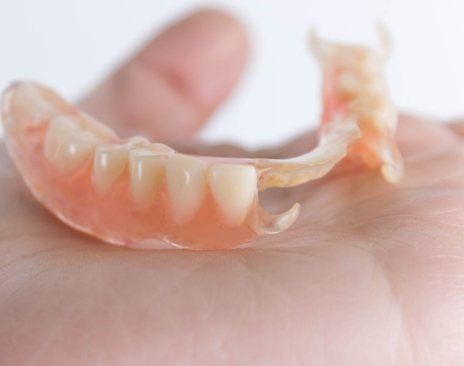 Over the years, dentures have only gotten better-looking, more comfortable, and easier to use. Additionally, scientists and dentists have been exploring many ways in which dentures can be designed to ensure the best durability and longevity possible. While there are many brands and variations within the denture space, there are generally three options you'll need to consider.
For example, partial dentures are designed to replace teeth on opposite sides of the mouth, much like how a puzzle piece fits into the last space of a puzzle. The partial denture also wraps around existing teeth using metal hooks to remain in place.
Alternatively, those who are missing all of their teeth (either in one or both arches) will benefit from a full denture. This version is made up of a gum-colored base housing a series of composite resin or porcelain teeth. To stay in place, the base relies on natural suction within the mouth. However, it's normal to rely on adhesive during the first few weeks of use to help yourself get accommodated to the denture.
Finally, implant dentures offer a more long-term solution for your tooth loss because they attach to dental implants to remain stable. While they look like full dentures, they are more capable of staying secure when chewing food and speaking. This makes them more expensive, but a great long-term investment.
Am I a Good Candidate for Dentures?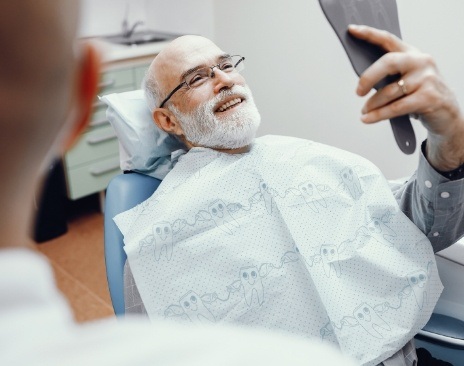 While dental bridges can replace teeth, a partial denture is a much better solution if you already have missing teeth throughout your mouth. If you are missing an entire arch of teeth, a full denture or implant denture could easily satisfy your dental needs. Of course, if any remaining teeth need to be extracted because they are no longer salvageable, an extraction will need to be performed ahead of designing and placing your future denture.
The Many Benefits of Dentures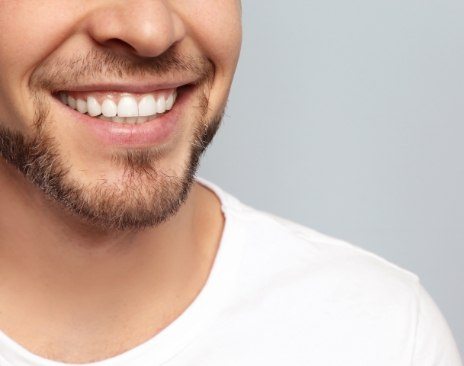 When you receive a fully personalized denture, you can expect:
Major boosts to your self-esteem
Improved appearance (not just for your smile, but overall as well)
Improved speech, making it easier to socialize with friends and family
The ability to significantly expand your diet compared to having few or no teeth
Additional support for your facial muscles
The ability to prevent your remaining teeth from shifting out of place
Understanding the Cost of Dentures
Just like any other dental restoration, the cost of dentures will vary from person to person based on a variety of different factors. There are all sorts of things that can contribute to the price. During your initial consultation, we will be able to determine exactly how much your new restoration will cost. Until then, here are some things to take into consideration.
Factors that Affect the Cost of Dentures
Here are a few main factors that will contribute to the cost of your dentures:
The preparatory work that you require before you can get your restoration will contribute to the overall price. This includes gum disease treatment and tooth extractions.
The material that's used to create your dentures, like acrylic and porcelain, will affect the expense.
The number of teeth you need to replace has a direct relationship to the cost.
Remember that cheaper dentures don't mean better dentures. When you choose budget dentures, you are much more likely to require frequent repairs and replacements. When you invest in a high-quality restoration, you will notice a difference!
Are Implant Dentures More Expensive?
Implant dentures cost more than traditional dentures, but there is a good reason for it. Instead of being supported by the shape and suction of the gum tissue, implant dentures are held in place by a series of dental implants placed into the jawbone via a surgical procedure. This allows for many additional benefits, like being more lifelike and having additional stability. You don't need to replace them every 5 to 7 years either. Dental implants are made to last for several decades.
Does Dental Insurance Cover Dentures?
In the majority of cases, you can expect some level of coverage for dentures. Many insurance plans cover up to 50% of your treatment, but this varies depending on the plan that you have. Our practice is proud to accept nearly all dental insurance plans. We will even file claims on your behalf to ensure that you receive the full benefits offered by your coverage.
Other Options for Making Dentures Affordable
If you don't have dental insurance, this doesn't necessarily mean that you'll be left completely on your own. We work with CareCredit – a third-party financing company that can split the cost of your treatment into manageable monthly installments with little-to-no interest. Talk to one of our friendly team members to learn more about your financial options.
To find out exactly how much you can expect to pay for your dentures, schedule a consultation with us. We're eager to help you show off a complete smile once again!
Dentures FAQs
Do you still have questions about what life will be like with dentures? While your denture dentist in Hillsboro is happy to address any of your concerns during your consultation, we understand that many people would rather do some of their own research beforehand. That's why we've included the answers to some of the denture-related questions that our dentists get asked the most often.
Will dentures change the shape of my face?
Even after losing just one tooth, your facial structure will eventually change. Without the roots of your teeth stimulating your jawbone through biting and chewing, the bone deteriorates over time. This may lead to a sunken or wrinkled facial appearance that can age you prematurely.
One way to prevent this facial collapse is by investing in an implant denture. Because dental implants also bring back the roots of your teeth, they keep your jawbone strong – just like it was before you lost any teeth.
Can I get my dentures relined if they don't fit properly?
As the shape of your face changes with time, you may find that your dentures in Hillsboro don't fit as well as they once did. In that case, your dentures may need a reline – an adjustment of the denture's base.
That said, do NOT attempt to reline your dentures on your own. Without professional guidance, it can be all too easy to irreparably damage them. Instead, call The Dentists at Orenco Station. We can determine the proper way to reline your dentures. If their fit has changed too drastically and it has been more than five years since you received them, it may be time for a replacement instead.
Is it hard to talk with dentures?
When you first receive your dentures, you'll go through an adjustment period in which your facial muscles will get stronger in order to gain more control over your prosthetic. Many, many patients find talking and chewing difficult when they first put their dentures in their mouths. We recommend speeding up this adjustment process by reading a book out loud or singing in the shower. Although it may sound silly, it's a very effective way to get used to the way your dentures feel!
If your dentures frequently slip out of place when you're trying to talk, you can stabilize them by applying a small amount of denture adhesive. You could also bite down on them and swallow.
Can I use regular toothpaste to clean my dentures?
To keep your dentures looking great, brushing and rinsing them daily is essential. However, using a product that is not specifically designed to clean dentures (such as regular toothpaste) can actually be abrasive and can damage your prosthetic. As such, you'll have to use a cleaning solution and a toothbrush specially made for maintaining dentures. Our practice can definitely help you if you need product recommendations!