ClearCorrect
Straighter Teeth in Twelve Months with ClearCorrect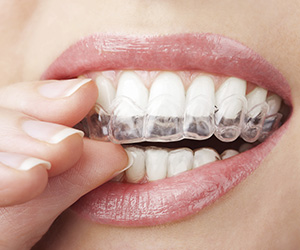 At the Hillsboro office of Drs. Brandon and Malinda Kearbey, we can use the cosmetic dentistry option of ClearCorrect to fix your misaligned teeth.
Traditional orthodontia doesn't fit everyone's lifestyles—especially if you're only looking for cosmetic correction. That's why our team at The Dentists at Orenco Station in Hillsboro believes that the ClearCorrect system is an excellent solution. Most complex bracket-and-wire orthodontic systems are used to fix improper bites and other alignment issues. ClearCorrect aligners gently adjust your crooked teeth into perfect position—usually within twelve months!
ClearCorrect actually uses a series of aligners custom-made to fix your particular misalignments. As you go through your treatment, you will switch out the aligners every fourteen days.
Why is ClearCorrect such a great option for straightening your teeth? Because its aligners are comfortable, convenient, and unnoticeable. You can also remove them. When you need to brush, floss, eat, or drink, you take out your aligners. Just remember to put them back in when you're done.
Since ClearCorrect doesn't require adjustments -- and you don't run the same risks off problematic brackets and busted wires -- you'll spend less time in the dental chair. On average, you'll come to our Hillsboro office every six to eight weeks so we can check on your progress and ensure all is going well with your treatment.
Dr. Brandon Kearbey and Dr. Malinda Kearbey provide family, cosmetic, restorative, and sedation dentistry to Hillsboro. They understand the special needs and expectations of families and professionals. The Dentists at Orenco Station also serve the communities of Forest Grove, Beaverton, Cornelius, and Rock Creek. We invite you to make your appointment now!