Dental Crowns & Bridges in Hillsboro
Creating Complete Smiles with Crown and Bridge Therapy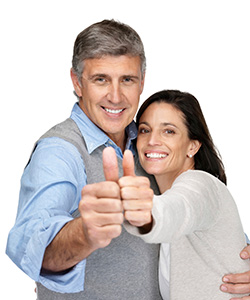 Have you lost a tooth due to an accident, injury, decay, or gum disease? At The Dentists at Orenco Station, our team can help you replace what you have lost with a crown and bridge. This special prosthesis is custom-made to fill in the gap between healthy natural teeth. It's also made to prevent remaining teeth from shifting out of their normal alignment. As a result, you can enjoy good oral health and well-being again with a restored smile.
What Is a Crown and Bridge?
A crown and bridge, also known as a fixed bridge, is most often made up of three parts: a false tooth and two abutment crowns. Your abutment crowns will be placed over healthy existing teeth, with your new false tooth resting in between them. Once in place, your custom-made crown and bridge will literally bridge the gap between your natural teeth, with your abutment crowns creating a strong, solid foundation for your results.
Are you considering a crown and bridge to replace a missing tooth? Drs. Brandon and Malinda Kearbey would be happy to assess your needs and offer care. Our Hillsboro office is comfortable, has a friendly staff, and offers three different forms of sedation dentistry to help patients who may feel anxious about receiving care. We promise to create a personalized treatment plan that gives you the help you need.
Dr. Brandon Kearbey and Dr. Malinda Kearbey provide family, cosmetic, restorative, and sedation dentistry to Hillsboro. They understand the special needs and expectations of families and professionals. The Dentists at Orenco Station also serve the communities of Forest Grove, Beaverton, Cornelius, and Rock Creek. We invite you to make your appointment now!