Hillsboro Family Dentistry
Caring and Compassionate Dentistry for Hillsboro Families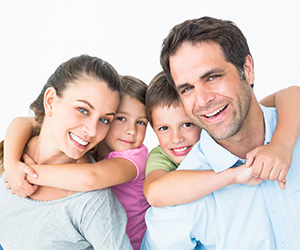 At the Hillsboro office of Dr. Brandon Kearbey and Dr. Malinda Kearbey, we offer a wide array of family dental services. Our team is happy to care for the dental needs of anyone in your family, including children who are five years old or older. Through regular cleanings and services like dental sealants and fluoride supplements, we can offer your child comprehensive protection from cavities.
At every family dental visit, our dentists give each and every patient a thorough dental exam that includes:
Diagnostic X-rays
Oral cancer screening
Gum disease diagnosis
Tooth decay examination
Survey of existing restorations
Our professional cleanings are performed by registered dental hygienists. At your family dentistry appointment for a dental cleaning, you can expect:
Removal of tartar from above and below the gum line
Elimination of plaque
Polishing of teeth
Homecare
Your oral hygiene habits play an important role in maintaining a healthy smile. If you're not brushing, flossing, and rinsing every day, you're jeopardizing the well-being of your teeth and gums, and possibly making yourself more vulnerable to systemic health issues such as heart disease and strokes.
Periodontal Therapy
If your gums bleed, feel swollen, and look discolored, chances are good that you have some form of gum disease. Oral bacteria can do a lot of damage to your teeth and gums. With their periodontal therapy, The Dentists at Orenco Station can restore health to your gums and protect your oral well-being.
TMJ Disorders
At our Hillsboro office, Drs. Brandon and Malinda Kearbey can assess your bite to determine if you have any temporomandibular joint (TMJ) problems. An aching or stiff jaw, ear pressure, and pain in the neck and shoulders are all common signs of a TMJ disorder. Meanwhile, if you wake up with headaches and your teeth are looking worn down, you may have bruxism. But no matter what kind of TMJ disorder you have, it can be treated—typically with a customized dental device.
Dr. Brandon Kearbey and Dr. Malinda Kearbey provide family, cosmetic, restorative, and sedation dentistry to Hillsboro. They understand the special needs and expectations of families and professionals. The Dentists at Orenco Station also serve the communities of Forest Grove, Beaverton, Cornelius, and Rock Creek. We invite you to make your appointment now!