Porcelain Veneers in Hillsboro
Recreate Your Smile with Porcelain Veneers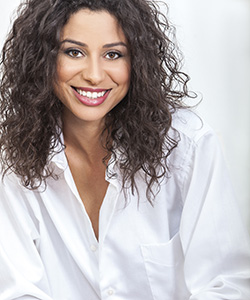 At The Dentists at Orenco Station, we can address all your smile issues. Maybe you have darkened, broken, chipped, gapped, cracked, or irregularly shaped teeth. If so, porcelain veneers offer a one-procedure fix for all of these, and other, cosmetic problems.
What are porcelain veneers?
Porcelain veneers are very thin translucent shells that fit over the front surfaces of your teeth. They're custom-made in a dental lab so that they are the perfect size, shape, and color to recreate your smile. At The Dentists at Orenco Station, they're happy to offer porcelain veneers to patients from Hillsboro and all surrounding areas.
What are the advantages of porcelain veneers?
The main advantage of porcelain veneers is their natural look. They reflect light the same way enamel does. In addition, porcelain veneers are strong, functional, beautiful, and stain resistant. Since porcelain is a biocompatible material, porcelain veneers won't irritate your gingiva. With porcelain veneers, you won't have a reason to hide your smile ever again.
What is the process for putting porcelain veneers on my teeth?
In only two visits to our Hillsboro office, we can complete the entire procedure and give you a new smile. We will begin by preparing your teeth for your veneers, and making molds. Then the molds are sent to a dental lab, where a technician crafts each veneer for each tooth. Finally, the customized porcelain veneers are returned to us, and we will fit them to your teeth. In no time at all, you'll have long-lasting results and a smile you'll want to share with others.
Dr. Brandon Kearbey and Dr. Malinda Kearbey provide family, cosmetic, restorative, and sedation dentistry to Hillsboro. They understand the special needs and expectations of families and professionals. The Dentists at Orenco Station also serve the communities of Forest Grove, Beaverton, Cornelius, and Rock Creek. We invite you to make your appointment now!