July 6, 2023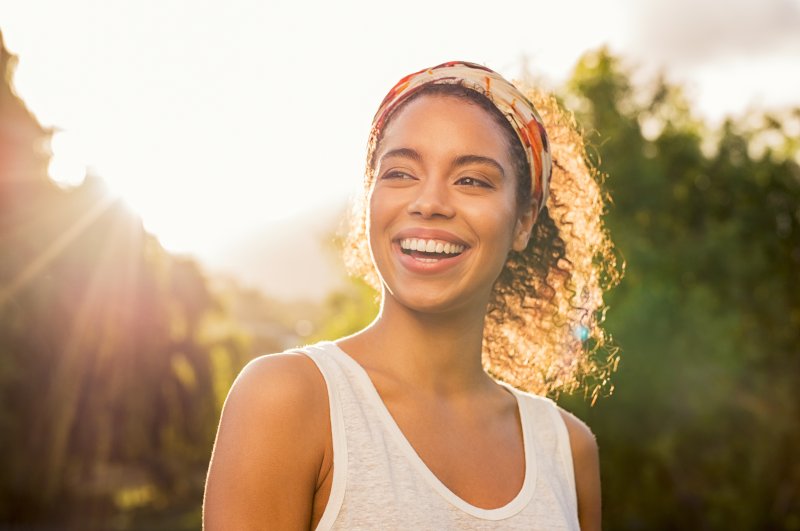 Chances are you have a little more leeway to relax during summertime. Your flexible schedule means more time to get those annual doctors' appointments out of the way, so what better time to see your dentist than now? Here are 3 ways cosmetic dentistry can enhance your summer smile and bring back your confidence.
1. Discreetly Straighten Your Teeth with SureSmile
Have you always wanted straighter teeth without the discomfort and look of metal braces? SureSmile is made of clear, plastic material designed to slowly realign crooked teeth in a discreet way. Traditional braces can mean over a year of metal brackets, prongs, and wires in your mouth, not to mention the dietary restrictions. With SureSmile, you don't have to worry about what you can or can't eat, because the aligners are removable. You don't even need any special changes to your oral hygiene routine.
It's important to note that since SureSmile puts pressure on your teeth, there will be an adjustment period where you'll have to get used to it. Soon you'll be taking your aligners off and putting them back on without any trouble at all, and it's all smooth sailing from there! Starting SureSmile in the summer means you can get used to your new aligners before going back to school or work.
2. Remove Stubborn Stains with Professional Teeth Whitening
Stains or discoloration can make you feel self-conscious about smiling. The convenience of buying a whitening kit straight off the shelf is tempting to anyone, but doing so could harm your oral health without even getting you the results you want!
If you're looking to boost your confidence and get a brighter smile, having your teeth professionally whitened by a dentist ensures safe, fast, and effective results you'll be able to enjoy for weeks to come. Dentists have access to advanced technology and powerful, medical-grade whitening agents to guarantee a long-lasting, white smile 8 shades brighter than any product off a shelf could – in a single visit!
3. Address Multiple Dental Flaws at Once with Veneers
With veneers, you can have a complete smile makeover by the end of summer! A veneer requires a tiny amount of enamel to be removed from your tooth before attaching properly. Then, a custom-made veneer will be bonded to the front-facing surface of your tooth, effectively concealing minor misalignment, unsightly chips, and permanent discoloration in the process – all in three appointments or less!
Don't hesitate to take advantage of your time off this summer and start the journey to your dream smile.
About the Practice
The Dentists at Orenco Station is led by the incredible husband-and-wife duo Dr. Brandon S. Kearbey and Dr. Malinda Kearbey and provides a wide range of high quality dental services to the Hillsboro area. The practice offers several options for cosmetic dentistry, teeth whitening, veneers, SureSmile aligners, and ClearCorrect. If you're ready to restore confidence to your smile, you can contact The Dentists at Orenco Station through their website or by phone at (503) 640-4262.
Comments Off on 3 Ways Cosmetic Dentistry Can Enhance Your Summer Smile
No Comments
No comments yet.
RSS feed for comments on this post.
Sorry, the comment form is closed at this time.