January 28, 2020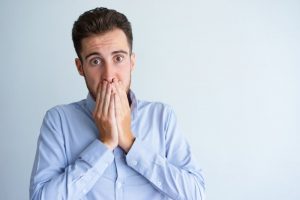 What's holding you back from getting straighter teeth? Some people aren't keen on the thought of a mouthful of metal braces, or a treatment that lasts a long time. Others simply don't like the idea of spending money on a cosmetic enhancement. However, the straightness of your teeth influences more than just your looks! Read on to find out how an uneven smile can negatively impact your long-term oral health, your self-confidence, your wallet, and even your overall wellbeing, as well as what your cosmetic dentist can do to help!
The Dangers of an Uneven Smile
Crooked teeth can change both how you look as well as how you feel. Even if your uneven smile isn't bothering you right now, it can cause you problems in the long run. Here are some dangers that come along with misaligned teeth:
It's difficult to keep crooked teeth clean. Since uneven teeth create spaces that easily trap food particles, plaque, and bacteria, you're much more likely to develop oral health conditions like tooth decay and gum disease.
Your overall health could suffer because of your uneven smile. When it becomes more difficult to remove plaque from your mouth, the increased levels of bacteria can lead to larger health issues in your lungs, heart, brain, and other vital systems.
Crooked teeth can make daily life more difficult. Misaligned teeth can influence your day-to-day life by causing chewing difficulty, headaches, jaw soreness, and even chronic bad breath.
You may look and feel less confident. If you're embarrassed about the look of your teeth, even subconsciously, you'll naturally smile less. Not only does smiling make you look more friendly and confident, but it triggers a chemical reaction in your brain to create feelings of positivity and relaxation.
How Can My Cosmetic Dentist Help?
Orthodontists aren't the only ones who can help you straighten your smile. Your cosmetic dentist can offer you several treatments for crooked teeth that don't involve metal wires or brackets. Some of the most popular services include:
Porcelain Veneers: These ultra-thin and very durable shells of porcelain are bonded to the front of your teeth, covering them up with the appearance of a flawless smile. While they will not physically move your teeth, they can fit over slightly crooked, misshaped, or misaligned teeth to create the appearance of a straighter smile.
Clear Braces: Treatments like the ClearCorrect system can help teeth that need more than a little straightening. With a series of custom-made clear alignment trays, your teeth are gently shifted into place over time. While traditional braces may take several years to complete treatment, you can have straighter teeth with ClearCorrect in as soon as 12 months!
If you're ready to get the straighter, healthier smile you've always wanted, there's no reason to wait! Your cosmetic dentist can help you pick which option is right for you.
About the Practice
Our practice, The Dentists at Orenco Station, is proud to offer quality preventive, restorative, and cosmetic dentistry to the Hillsboro, OR area. When seeing a patient for the first time, our experienced team of dentists always starts with a one-on-one consultation to ensure that all your dental needs are addressed properly. We have advanced training in several specialties, including cosmetic dentistry services like porcelain veneers and the ClearCorrect system. If you have questions or want to know which smile-straightening approach is right for you, we can be contacted at their website or at (503) 640-4262.
Comments Off on Uneven Teeth Can Influence More Than Just Your Smile
No Comments
No comments yet.
RSS feed for comments on this post.
Sorry, the comment form is closed at this time.