August 15, 2023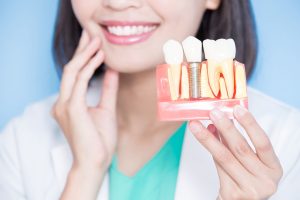 No one wants to feel like their imperfections are the most noticeable thing about them, and this can be especially true for those who have lost one or more teeth. After all, our eyes are trained to recognize faces, and large gaps in someone's smile are certainly easy to spot! Fortunately, dental implants can replace missing teeth so that you can live your life without feeling so worried or self-conscious about your tooth loss.
Many patients avoid appointments, though, if they're feeling too self-conscious about their oral health to get the help they need. If you haven't pursued treatment because you worry about how you might be perceived, keep reading to learn 3 great reasons why you shouldn't let that hold you back!
Reason #1: You Could Be Putting Your Health At Risk
If your tooth loss occurred because of gum disease or poor oral hygiene, then you might be feeling particularly self-conscious about the state of your smile. What will your dentist say when they learn that you lost teeth because you didn't regularly brush or floss? What an embarrassment!
You don't want to delay seeking treatment for lost teeth, though. Those pesky oral health issues won't go away just because you lost a tooth or two, and they can wreak havoc on your health if not treated properly. Plus, the gap left behind by a missing tooth causes the jaw to reabsorb bone mass that is no longer being used, which can impact your oral health in other ways. It can change the overall shape and structure of your face, as well as weaken your jawbone to the point that other teeth at risk of falling out too!
If you hesitate to pursue treatment like dental implants for missing teeth, then you're running a greater risk of other side effects and consequences taking place. Not only that, but your dentist can provide the tools and information you need to restart healthy oral hygiene habits for ongoing care.
Reason #2: You Are Not The Worst Case Scenario!
Some patients who experience tooth loss because of poor dental hygiene habits might avoid dental appointments for fear of judgment over the state of their smile. Rest assured, your dentist has seen issues even worse than yours! Besides, their goal is to help you alleviate any pain, restore your smile, and regain your health. They want to keep you feeling calm and comfortable rather than criticized. Don't allow anxiety over what a dentist might say to keep you from seeking necessary treatment!
Reason #3: It Might Not Be Too Late
Many individuals who have been living with imperfect teeth, or who don't consistently practice healthy routines, have simply lost hope that there's anything a dentist can do to fully restore their smile. Fortunately, New advances in technology means that there are methods and treatments available that weren't an option in the past! Even if you think your problem is insurmountable, your dentist might very well have solutions to try.
It's important to address dental concerns regardless of whether you think you'll be judged because they can greatly impact your overall health and well-being. Don't let negative thinking hold you back. Reach out today to find out what your dentist can do for you!
About the Practice
Drs. Brandon Kearbey and Malinda Kearbey are a dynamic duo who provide family, cosmetic, restorative, and sedation dentistry services to patients of all ages. They each achieved their Doctor of Dental Surgery from Loma Linda University in 2006 and have been working at their practice together for the past nine years. If you'd like to inquire about implants, feel free to make an appointment on the website or by calling (503) 640-4262.
Comments Off on Dental Implants: Don't Let Embarrassment Hold You Back!
No Comments
No comments yet.
RSS feed for comments on this post.
Sorry, the comment form is closed at this time.