December 19, 2016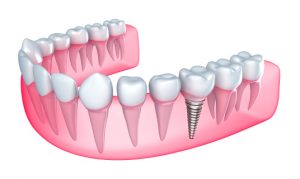 Congratulations! With help from The Dentists at Orenco Station, you have rebuilt your healthy and beautiful smile with dental implants. You may know that your implants take the place of both the root and crown of a missing tooth. The implant portion is embedded in your jaw and the attached restoration—a porcelain crown, bridge, partial or full denture—is what shows. Properly cleaning your implant supported teeth replacements is just as important as cleaning your own natural teeth. If you have dental implants, Hillsboro dentists Dr. Brandon Kearbey and Dr. Malinda Kearbey have some advice on how to maintain optimal oral health with proper cleaning.
Why Do Dental Implants Need Special Attention?
Properly caring for your dental implants can extend their longevity. In fact, implants can last a lifetime if you are vigilant about hygiene. Just like your natural teeth, the condition of implant-supported teeth depends largely on the condition of the surrounding tissue.
Did you know that plaque could just as easily accumulate around a porcelain crown as around one of your own teeth? So, removing plaque with twice daily brushing and once a day flossing is imperative. If not removed, then a condition similar to gum disease may develop. Called peri-implantitis, this bacterial infection can affect the delicate connection that exists among the implant, your gums and the bone. In extreme cases, peri-implantitis can cause bone loss around the dental implant. If this happens, Dr. Kearbey may need to extract the implant and tooth restoration.
Cleaning Hillsboro Dental Implants
When you brush your teeth and dental implants, be sure to use a toothbrush that has soft bristles. Hard bristles are more like to scratch the enamel surface of your teeth as well as porcelain restorations. You don't need to switch from a manual to an electric or battery-powered brush. Whatever you're most comfortable with is best.
Floss in between your teeth and implanted tooth restorations. Be sure to floss all the way down to the gum line in order to remove any debris and plaque that may be building up.
In addition to maintaining a strict oral hygiene routine at home, scheduling regular dental checkups every six months is very important when you have dental implants. Our dental hygienists can use special hand instruments to thoroughly clean around your implants. If there is any plaque on the restoration, we have the tools that will not scratch the surface.
For Dental Implants in Hillsboro, Call Us Today
To find out more about the proper care of your implants or to learn if  dental implants are right for you,  contact The Dentist at Orenco Station in Hillsboro, OR.
Comments Off on For Dental Implants, Hillsboro Dentists Offers Important Tips on Cleaning
No Comments
No comments yet.
RSS feed for comments on this post.
Sorry, the comment form is closed at this time.