March 17, 2017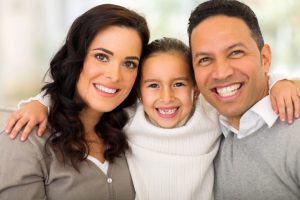 Finding the right health care providers is important! You want to work with practitioners that you trust have your best interests in mind and build a relationship with them. The same is true of your dentist, and it's never been more important than when you have a family to consider. Wouldn't it be great to find a dentist that could meet the entire family's needs so you don't have to drive all over town for dental appointments? Finding an excellent dentist in Hillsboro may be easier than you think. Here's what The Dentists at Orenco Station have to offer.
Pediatric Dentistry
Many patients report that their dental fear stems from bad experiences they had as a child with their dentist. Drs. Brandon and Malinda Kearbey understand how important your child's first dental visits are for setting them up for a lifetime of success, and that's why we've partnered with Dr. Michael Royse, located right downstairs from our office to take care of our younger patients.
Dr. Royse is the only pediatric dentist who is a board certified Diplomate of the American Board of Pediatric Dentistry in all of Hillsboro, OR, which makes him an excellent choice to partner with as we know he believes in the high standard we have for patient care.
Sedation Dentistry
We know that many of our patients experience fear or anxiety when it comes to their dental care. For this reason, The Dentists at Orenco Station offer options for sedation dentistry. Whether you just need to "take the edge off" during your appointment, or you have multiple procedures you'd like to complete during one visit, we can meet your needs.
We offer nitrous oxide, which is ideal for patients needing just a little extra assistance feeling comfortable during their care. Oral conscious sedation utilizes a pill to help patients feel relaxed during procedures, and it has an amnesic affect, so you likely won't remember much of what went on during your treatment.
Dr. Brandon Kearbey is also qualified to administer IV sedation after training at the University of Southern California with the premier dental anesthesiologist, Dr. Stanley Malamed. Medication is administered intravenously, while your heart rate and vital signs are closely monitored. This is a great option for patients who have multiple procedures to complete and would like to be asleep throughout their appointment.
Comprehensive Family Care
You'll find that The Dentists at Orenco Station offer a full range of services for patients including:
Cosmetic dentistry
Dental implants
Treatment for TMJ
Restorative dentistry
Periodontal therapy
We can't wait to meet your family and begin building a long-term relationship with you. Contact our office today to schedule your next dental appointment.
Comments Off on Choosing The Right Dentist Near Me
No Comments
No comments yet.
RSS feed for comments on this post.
Sorry, the comment form is closed at this time.