September 7, 2023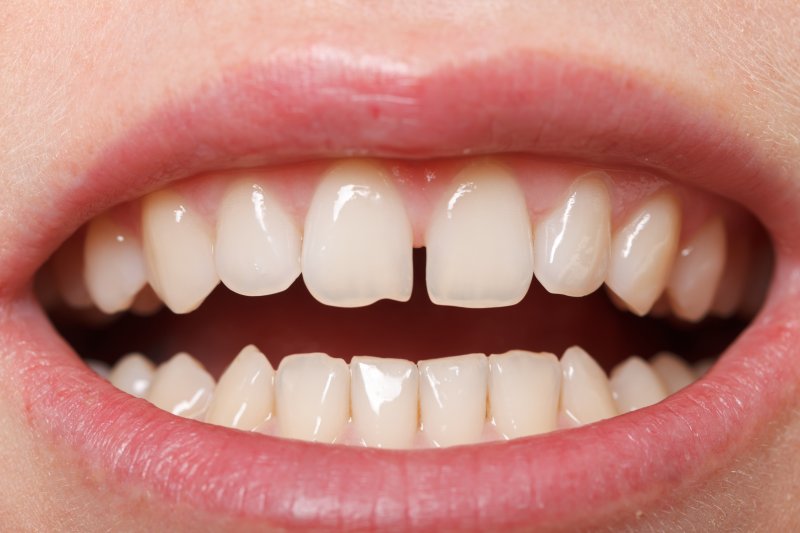 Do you have a noticeable space between the front teeth? This is called a "diastema." Fortunately, it isn't usually harmful and doesn't generally require any treatment. However, lots of people are self-conscious if their teeth don't completely come together in the front. Continue reading to learn more about diastemas, why they occur, and what you can do to correct their appearance if that's something you want to do.
What Causes Diastemas?
There are several reasons why a diastema can occur. Here are some of the most common reasons behind this cosmetic imperfection:
Undersized Teeth: If you have smaller teeth due to your genetics, this can leave you with gaps between your teeth.
Oversized Labial Frenum: This is the tissue that extends from the inside of your upper lip to the gum tissue about your front teeth. If this tissue is larger than average, it can cause a gap between the teeth.
Tooth Loss: When a tooth is missing, the other teeth shift around to fill the gap. This could mean developing spaces in other areas of your mouth.
Gum Disease: If you have advanced gum disease, your teeth could be migrating. This can cause gaps to open between them. If you don't have this infection treated, your teeth could eventually fall out.
Bad Habits: If you sucked your thumb or lip as a child, this could be what caused your diastema.
How Can a Diastema Be Corrected?
In most cases, diastemas are completely harmless. However, if you don't like how it makes your smile look, there are some solutions out there to correct it. Here are some of the most common:
SureSmile Aligners: Clear aligners can effectively shift your teeth to an aligned position and close the gap between them.
Veneers: If your teeth are undersized, veneers can correct this. These are thin shells of porcelain that are placed over the front-facing surfaces of the teeth to mask imperfections.
Gum Disease Treatment: If you have gum disease, you will need to have it treated to stop the infection and prevent further issues. Then you can discuss cosmetic options with your dentist to minimize the gap between your teeth.
Surgical Solutions: If your diastema resulted from an oversized labial frenum, you may need to undergo surgical treatment to correct this. After this, other treatments can be discussed to correct the gap.
Diastemas aren't generally something to worry about, but disliking the appearance of your smile is a perfectly valid reason to seek treatment. Everyone deserves a smile that they're proud to show off!
About the Practice
At The Dentists at Orenco Station, we have a team of three skilled dentists eager to serve patients in the Hillsboro community. With their combined experience and expertise, patients can get pretty much anything they need under one roof! If you have a diastema that you would like to have corrected, they would be happy to help. For more information or to schedule an appointment with us, visit our website or call (503) 640-4262.
Comments Off on How to: Fix a Gap Between My Front Teeth
No Comments
No comments yet.
RSS feed for comments on this post.
Sorry, the comment form is closed at this time.