September 15, 2016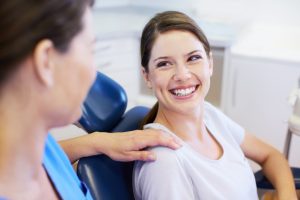 When the time for your six-month dental cleaning and checkup arrives it may seem like a nuisance. You have to take time out of your busy day, and maybe even miss work to go see the dentist. You probably ask yourself, is this really necessary? You may even think that you could get by on one visit per year. Well, let us stop you right there. Your Hillsboro dentist is going to explain the importance of visiting the dentist twice per year, and why you absolutely need to go to your appointment.
The Oral Systemic Connection
What is this you may ask, and what does it have to do with my six-month checkup? We're glad you asked, because the oral systemic connection is the very important link between your oral health and overall health and well being. It's been determined that periodontal (gum) disease is connected with other health concerns in the body and vice versa.
The bacteria that causes gum disease can actually enter in to your bloodstream and travel to other areas of your body and contribute to other health issues such as diabetes, cardiovascular disease, stroke, and high blood pressure. This is only one reason that you should regularly visit your dentist, here are some more.
Prevention
Drs. Brandon and Malinda Kearbey believe that prevention is truly the key to maintaining optimum oral health, and your six-month cleaning and checkups are your first line of defense against oral health concerns such as gum disease, tooth decay, and oral cancer.
All of these issues are most effectively treated in their earliest stages, ensuring that you get the least invasive and costly treatment. We screen for all these issues at every dental checkup, and believe it or not, we can detect them earlier than you can! This is just one more reason to attend your six-month cleaning and checkup appointments.
Learn About Your Oral Health
Your regular checkups are also the time when we educate you about your oral health. Our hygienists will take the time to show you proper brushing and flossing techniques, while our doctors will discuss prevention and treatment of oral issues. We want to be your partners in achieving and maintain optimum oral health for a lifetime, and you have to come to your cleaning and checkups in order for us to do so.
Ready to schedule your next cleaning and checkup? Your health is too important to risk! Call us today to schedule.
Comments Off on Hillsboro Dentist Explains The Importance of Visiting the Dentist Twice a Year
No Comments
No comments yet.
RSS feed for comments on this post.
Sorry, the comment form is closed at this time.