March 11, 2020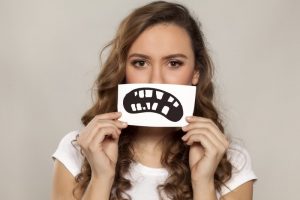 Do your crooked teeth have you frowning? Misaligned teeth distract from your appearance, undermine your confidence, and put you at a higher risk of oral health conditions. A mouthful of clunky metal braces used to be the only way to correct these teeth. However, modern cosmetic dental treatments don't require you to sacrifice your looks now for impressive results later. In fact, some services can give you a dramatically improved set of pearly whites in just one or two appointments! Here are three easy ways your Hillsborough cosmetic dentist can help you achieve the straighter smile you've always wanted.
Lifelike Dental Crowns
Dental crowns are strong, natural-looking, tooth-shaped caps that are designed to slip over a tooth. While they're often used as a restorative treatment for teeth that are worn down, weakened, or broken, they are also an excellent choice for covering up dental imperfections. If you have one tooth that is askew or a few that have gaps between them, your cosmetic dentist may suggest fitting them with beautiful dental crowns that fit in seamlessly with the rest of your smile. In just a few quick appointments, your wayward teeth can be visually straightened.
Flawless Porcelain Veneers
Porcelain veneers are another way to easily and drastically change the appearance of your teeth in a short amount of time. These wafer-thin shells of dental porcelain can be permanently attached to the front of one or more teeth to completely change their size, shape, or color. Not only is this an excellent solution for teeth that are slightly misaligned, gapped, or misshaped, but porcelain veneers can also completely mask any chips, cracks, or stains on your teeth as well. They can often be designed and placed within just two appointments and last 20 years or longer!
Convenient Invisible Braces
If you want your teeth physically straightened but don't want to deal with clunky, awkward metal braces in your everyday life, invisible braces like ClearCorrect may be for you. They use a series of clear plastic aligners to gently shift your teeth into place over time. You can remove them to eat whatever you like, enjoy your favorite hobbies, and clean them easily, and then no one will be able to tell that you're wearing them once you pop them back in. Invisible braces allow you to enjoy the process of transforming your smile just as much as the dazzling results!
Now that cosmetic dentistry is more accessible than ever, there's no reason to keep being embarrassed by your crooked teeth. You have a variety of options that can transform them into the happy, healthy smile of your dreams!
About the Authors
If you don't love your smile, Drs. Brandon and Malinda Kearbey of the Dentists at Orenco Station are here to help. Together, they have years of experience helping their patients in Hillsborough, OR and the surrounding communities achieve the smiles they've always wanted. With a dedication to continuing education and active memberships in associations like the American Academy of Cosmetic Dentistry, they are able to stay up to date on the newest ways to straighten and improve teeth. If you're interested in getting straighter teeth, feel free to reach them via their website or at (503) 640-4262.
Comments Off on 3 Ways Cosmetic Dentistry Can Give You a Straighter Smile
No Comments
No comments yet.
RSS feed for comments on this post.
Sorry, the comment form is closed at this time.