March 1, 2021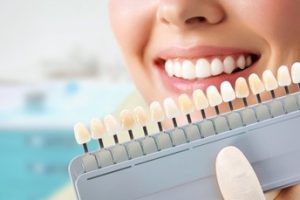 Does your smile seem to get a bit darker or more yellow every year? If so, you aren't alone. There are many different causes for tooth discoloration that range from age to diet and habits. Luckily, there are quite a few ways to whiten your teeth including budget-friendly options or cosmetic dentistry treatments. Here are 4 ways to whiten your teeth and achieve your whitest smile.
Increase Your Calcium Intake
Enamel is what gives your teeth their white color. If yours has started to wear away and your dentin and become exposed, it could be causing your smile to look yellow. Calcium is known for its ability to strengthen bones and teeth. Eating more calcium-rich foods like broccoli, cheese and enriched breads or grains is a great way to help fortify your enamel and brighten your smile.
Brush with Baking Soda
Baking soda naturally has whitening properties and helps make your mouth into an alkaline environment, minimizing bacteria's ability to reproduce. The higher the concentration of baking soda, the stronger the effect. It may not whiten your teeth immediately, but it is possible that you will notice a difference in the color of your teeth with frequent use.
Eat Raw Vegetables and Fruits
Though it is no substitute for brushing, eating raw, crunchy vegetables like celery and carrots has been known to help scrub plaque from your teeth. Certain fruits are also known to have whitening properties, including strawberries, watermelon, oranges and pineapple. Quite a few celebrities also brush with a mixture of strawberries and baking soda to whiten their teeth.
Professional Treatments
Cosmetic dental treatments specifically treat problems with dental flaws like crooked or misshapen teeth, dental discoloration and worn-down enamel. Severe tooth discoloration may be impossible for you to deal with on your own. Luckily, your dentist can help. Two treatments you may want to consider are teeth whitening and porcelain veneers:
Teeth Whitening: If you are simply looking to whiten your teeth, a professional whitening treatment from your dentist will surely help you achieve the results you're looking for. Purchasing over-the-counter whitening products may be easier on your wallet, but they are not as powerful as the products your dentist uses. Whether you choose an in-office procedure or an at-home kit from your dentist, your teeth can be brightened by up to 8 shades.
Porcelain Veneers: Some dental staining can run so deep that even a professional whitening can't correct them. In this case, veneers may be a better option. They are thin but opaque shells made of porcelain that are adhered to the surface of your teeth. They can mask a wide range of dental flaws that include severe stains, crooked or misshapen teeth, gaps and more.
No matter what option you choose to whiten your teeth, one of the best and easiest ways to enhance your smile is by practicing a proper dental routine. It is also a good idea to avoid or at least minimize exposure to foods and drinks that can stain your teeth.
About the Practice
The Dentists at Orenco Station are committed to providing every patient who enters their doors with top-quality dental care in a comfortable environment. In addition to achieving their Doctor of Dental Surgery degrees, Drs. Brandon and Malinda Kearbey have multiple certifications and many hours in continuing education programs that allow them to offer a wide range of dental treatments that include sedation dentistry, cosmetic dentistry and much more. if you're ready to brighten your smile, contact the office at (503) 640-4262 or visit the website to schedule your appointment today.
Comments Off on How to Battle Tooth Discoloration and Achieve Your Brightest Smile
No Comments
No comments yet.
RSS feed for comments on this post.
Sorry, the comment form is closed at this time.