February 10, 2017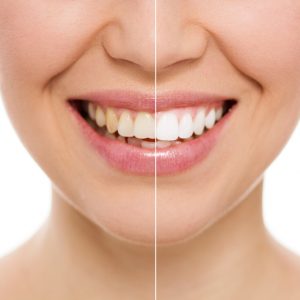 You've been trying to whiten your teeth for a while now, but you're beginning to think your smile is beyond repair. You've tried everything – toothpastes, rinses, strips, gels – anything you can get over-the-counter, but nothing seems to work. What's the best solution to eliminate staining and make your smile gleam brightly? In-office treatments and KöR teeth whitening from The Dentists at Orenco Station will give you the dramatic results you're looking for, no matter how dim your smile is.
What Whitening Methods Do You Offer?
At our practice, Dr. Brandon Kearbey and Dr. Malinda Kearbey offer both in-office teeth whitening in Hillsboro, and take-home treatments. With the in-office option, you'll see an amazing difference in just an hour.
KöR is the preferred system of teeth whitening for dental professionals. We use this method because it's not only remarkably effective and produces great results, it's convenient, too. Simply wear the 100%-customized trays while you sleep and let the safe, yet potent KöR whitening gel work its magic.
Why Is Professional Whitening Better Than Home Treatments?
The teeth whitening services we offer are superior to products you can buy over-the-counter (OTC) like strips and toothpastes. Here's why:
Potency – Nothing can compare to the fast, effective results of in-office teeth whitening. For an at-home option, KöR is the strongest lightener around – it's kept cold to prevent the gel from breaking down and becoming infective. Let's face it – OTC products simply aren't as strong as those available to trained dental professionals.
Safety – Since you'll be under the care of dentists with decades of experience, you can trust that you'll be secure throughout the teeth whitening process. Some OTC products, on the other hand, can injure your smile.
Time – With the rapid results from our hour-long in-office treatments, you'll wonder why you waited so long to improve your grin. With KöR, you can expect results in 1-2 weeks. Either way, you won't waste time waiting for inferior strips to make their mark.
Cost – Rather than throwing your money away on OTC options that just don't work, make your money count with a treatment that actually corrects your dental discoloration.
Does Teeth Whitening Work?
Absolutely. Countless celebrities – who rely on their smiles to keep them in the public eye – have undergone lightening procedures. Teeth whitening is, by far, the most common cosmetic dental procedure. But, don't believe us – check out some of these incredible results for yourself.
Now that you know why our in-office, professional teeth whitening treatments are so much better than anything you can find over-the-counter, schedule your appointment with The Dentists at Orenco Station today and get the radiant smile you deserve!
Comments Off on KöR Teeth Whitening Eliminates Stains And Makes Your Smile Radiant
No Comments
No comments yet.
RSS feed for comments on this post.
Sorry, the comment form is closed at this time.