December 18, 2017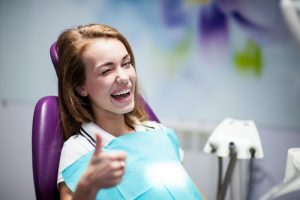 Every morning you wake up, ready to brush, floss and start your workday. You work hard so you can get home to do all the other chores on your plate. Paying bills, doing laundry, the list goes on. But when was the last time you thought to schedule an appointment with your Delta dental dentist in Hillsboro? 6 months ago? A year? Longer?
Regular visits are an important part of preventive oral care for many reasons. That's why your dentist in Hillsboro wants to talk about it. Keep reading to learn how regular visits are for more than just cleanings.
Why You Need to Visit, Even with No Symptoms
Regular dental visits are a key part of preventive care, even if you aren't experiencing any noticeable issues. The reason the American Dental Association recommends patients to visit their dentist twice a year is because they know patients won't be able to catch every issue that's happening. A professional can find underlying issues the average person may not even consider, especially through the use a digital X-ray machine or similar examination too.
Furthermore, medical conditions such as oral cancer are most treatable when they are caught early. Early detection makes treatment a simpler and less costly venture when found before it's later stages. This will also reduce the rate of dental emergencies you experience. The first step in making regular visits is determining the level of care you need.
Determine the Level of Care You Need
When it comes to patient care, there is no one-size-fits-all solution. With a smile as unique as yours, you may have specific needs that require more attention. Biennial visits are a good place to start, but depending on your current oral health as well as other conditions, you may have to visit more often.
For example, if you are pregnant or plan on becoming pregnant, you're more susceptible to infection because of your weakened immune system. If you are at higher risk for gum disease or more prone to tooth decay, your dentist may want you to see you every 3 months to ensure no underlying problems appear. Speak with your dentist if you feel you're at higher risk and use your insurance benefits when necessary.
Use Your Benefits for Preventive Care
When it comes to dental insurance, preventive visits are the most covered. Benefits can usually cover around 80% of the bill for cleanings, dental exams, and X-rays, depending on the insurance you have. The last thing you'd want to do is forgo these benefits just because it's been a long time since your last visit.
If you find yourself at the end of the year and you haven't used your benefits yet, make sure you schedule them in a way that let's you make the most of them. If you have a dental exam and cleaning you need done and it's December, try to schedule them before the new year when your benefits reset. This is because your benefits do not carry over.
Make visits to your dentist in Hillsboro a habit. Schedule a visit today to ensure the best preventive care!
About the Author
Brandon S. Kearbey, DDS, graduated from Walla Walla University with a bachelor's degree in bioengineering. He went on to earn his Doctor of Dental Surgery degree from Loma Linda University five years later. He's continued his dental education in many fields, including restorative, esthetic, and occlusion dentistry. To learn more about his practice, contact him at (503) 640-4262 or visit his website.
Comments Off on Make Regular Visits to Your Delta Dental Dentist in Hillsboro Today!
No Comments
No comments yet.
RSS feed for comments on this post.
Sorry, the comment form is closed at this time.