August 6, 2017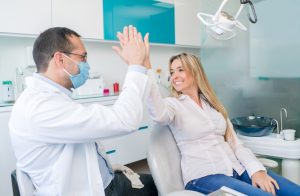 There are many patients that avoid seeing their dentist for a variety of reasons, one of the biggest factors being dental phobia.  Dental phobia is a real issue for patients and the decline of their oral health. Let's take a closer look at why patients may be afraid of visiting the dentist and how your dental team can help.
The Many Causes of Dental Phobia
You can develop anxieties and phobias for different reasons. When it comes to dentistry, researchers have found a few common reasons among many patients.
Pain
The fear of pain is most common in adults 24 years and older. This may be because their early dental visits happened before many of the comfortable advances dentistry has made.
Feelings of helplessness and loss of control
When sitting in the dental chair, you have to stay still. You may feel anxious because you can't see what's going on or make any predictions. It's common for people to feel helpless and out of control, which easily triggers anxiety.
Embarrassment
The mouth is an intimate part of the body. People may feel ashamed or embarrassed to have a stranger looking inside. This may be a particular problem if they're self-conscious about how their teeth look.
Negative past experiences
Anyone who has had pain or discomfort during previous dental procedures is likely to be more anxious during the next appointment.
Symptoms of Dental Phobia
Some of the signs of dental phobia include:
You feel tense or have trouble sleeping the night before a dental exam.
You get increasingly nervous while you're in the waiting room.
You feel like crying when you think of going to the dentist. The sight of dental instruments — or of white-coated personnel in the dentist's office — increases your anxiety.
The thought of a dental visit makes you feel physically ill.
You panic or have trouble breathing when objects are placed in your mouth during a dental appointment.
Good News: Sedation Dentistry Can Help You
The idea of getting dental work does not need to make you tremor with fear. If it does, then you may need some help overcoming dental phobia. Sedation dentistry can help you!
Nitrous Oxide
Also known as laughing gas, nitrous oxide is used mainly to ease light dental anxiety. Dentists place a mask over the patient's nose that pushes a mix of nitrous oxide and oxygen that quickly takes effect after several steady breaths.
Oral Sedation
Exactly as it sounds, oral sedation is taken orally to send patients into a drowsy state. Although the patient is not completely unconscious, there is little to no memory of a procedure and lasts a short period of time.
IV Sedation
IV sedation allows the medication to flow straight into the bloodstream. This can be used for any procedure if your dental phobia is uncontrollable. Usually, dentists reserve this total unconscious sedation dentistry technique for long oral procedures like wisdom teeth removal or root canals.
If you're nervous about your next dental appointment, don't shy away from asking your dentist about sedation dentistry and which option may be best for you.
Meet Your Dentists
Sometimes it can help patients relax when they realize their dentists are normal people just like them! Dr. Brandon Kearbey and Dr. Malinda Kearbey have two daughters together and love spending time with them. When they aren't busy helping patients relieve dental pain and overcome their dental fears, they love practicing their hobbies and spending time with their children. If you would like to meet either of the doctors in person, call our office at (503)640-4262.
Comments Off on Have No Fear, A Sedation Dentist in Hillsboro is Here!
No Comments
No comments yet.
RSS feed for comments on this post.
Sorry, the comment form is closed at this time.