September 2, 2015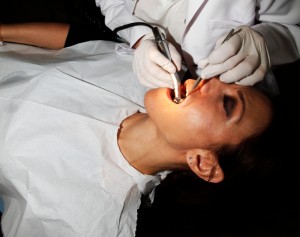 We help put Hillsboro, OR patients at ease during our dental procedures. Did you know there are many people who suffer from dental phobia or anxiety? It's a real ailment that keeps patients from coming into our office for dental treatment. Some procedures could be optional, though most are mandatory to help keep oral health operating at maximum efficiency. When your oral health is lacking, it can have negative effects on your overall health. It isn't just your oral health that we want in fantastic shape – it's your entire body.
Our office specializes in offering sedation dentistry treatment. Each method is designed to help you get through any dental procedure with complete comfort and relaxation. Dr. Brandon Kearbey and Dr. Malinda Kearbey are committed to bring comfort to your dental procedure. If you're dealing with a dental phobia issue and want to do something about it, you've come to the right place. It's our goal to change your feeling regarding the dental office. We have the Hillsboro sedation dentists that residents can trust.

Sedation Dentistry Services We Offer
Apprehension is an understandable feeling when it comes to receiving dental treatment. Maybe it's a root canal that you're needing but are afraid of the pain you might endure, or whitening treatment that in the past has left your teeth feeling super sensitive. We can help with all of this using our sedation dentistry services.
Nitrous Oxide: Also referred to as "laughing gas", it's a safe and highly effective form of sedation that helps you get through a procedure without experiencing the after-effects of deeper sedation. You're able to speak and function normally following a procedure. Adults and children are safe to receive treatment.
Oral Conscious Sedation: This method is usually reserved for patients that need multiple procedures. A sedative is prescribed and taken one hour before you come into our office. A common side effect is sleep, though patients are able to remain awake throughout the appointment. It's important that you have transportation provided before and after your appointment because it may take a while for the effects to wear off.
IV Sedation: We're one of the few dental offices that uses IV sedation. Since 2009, Dr. Brandon Kearbey has used this specialized form of sedation can allow us to perform many procedures in just one sitting. Most patients won't remember a thing after the effects have worn off. Dr. Kearbey was trained at the University of Southern California by professional anesthesiologist, Dr. Stanley Malamed.
Don't Fear The Dentist – Sedation Dentistry, Hillsboro, OR
We want you to get the treatment you need when you need it. Forgoing any kind of dental treatment can have negative effects on your oral health. But using our sedation dentistry methods, we can help you get through any procedure. It's one more way we provide comfort and relaxation for our patients. If you're located in the Hillsboro, OR area, we'd love to see you! Patients in Grove, Beaverton and Cornelius are encouraged to see us as well.
Comments Off on Sedation Dentistry Offers Relaxation and Comfort During a Dental Procedure
No Comments
No comments yet.
RSS feed for comments on this post.
Sorry, the comment form is closed at this time.