December 14, 2015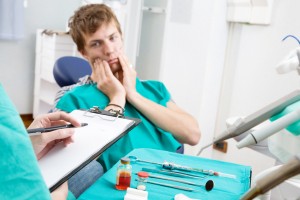 Dread, resistance, jitters… if you suffer from dental anxiety, you're certainly not alone. In fact, the majority of adults suffer from some amount of fear related to the dentist — but your dentists at Orenco Station want to remind you that being able to maintain good oral health is a huge privilege — and one that shouldn't be wasted. That's why we're so proud to offer our patients sedation dentistry in Hillsboro, a wonderful way to alleviate dental anxiety and relax your way to good oral health. Keep reading to learn more about this comfortable option today.
The Dentists at Orenco Station Offer Hillsboro Sedation Dentistry
Patients who trust the team of professionals at our Hillsboro office can benefit from three types of sedation dentistry. They're listed below — which one could help you finally achieve the excellent oral health you deserve?
Sit Back and Relax With Nitrous Oxide
Also known as laughing gas, nitrous oxide helps patients suffering from mild to moderate dental anxiety set aside their dental jitters and receive comfortable care. It's a perfectly safe sedative substance you inhale through a nasal mask, and it works wonders at relieving nerves and allowing you to relax for your dental procedure, making our job much easier. The best thing about nitrous oxide is that its effects wear off almost immediately after your treatment is complete, meaning you can go on about your day as normal.
Oral Conscious Sedation Offers a Deeper Relaxation
One of the most popular options in sedation dentistry has got to be oral conscious sedation. It allows you to relax more deeply than nitrous oxide, but you're still completely conscious throughout your procedure. In order to achieve this state of sedation, you take a special oral medication about an hour before your appointment, and its effects will have taken over by the time you're settling into the dental chair. Most patients report not remembering anything from their procedure while under oral conscious sedation — something they always agree is a big plus!
You Can Find IV Sedation at Orenco Station
It's not so often you find a dentist that's qualified to perform IV sedation, but we're not your common dental office. Dr. Brandon Kearbey is experienced in providing this type of sedation, which is reserved for the most extreme cases of anxiety, or for patients with severe disabilities.
Schedule Your Appointment for Comfortable Dentistry Today
Worry-free dentistry — how does that sound to you? If it's something you're interested in, don't wait any longer to schedule your appointment with The Dentists at Orenco Station. We're here to help all our neighbors achieve the ultimate in dental care. Book your appointment in December!
Comments Off on Sedation Dentistry Hillsboro: Relax Your Way to Oral Health
No Comments
No comments yet.
RSS feed for comments on this post.
Sorry, the comment form is closed at this time.