October 28, 2015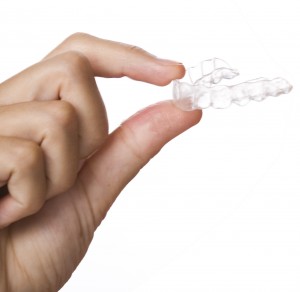 When most people think of orthodontics they visualize a mouthful of metal brackets and wires that are in place for years. Fortunately, the art and science of straightening teeth has dramatically advanced. Today there are clear braces that are practically invisible and that can realign a crooked smile in as little as one year. Dr. Brandon Kearbey and Dr. Malinda Kearbey in Hillsboro, OR, have used ClearCorrect invisible braces to give many of their patients enviable smiles and they can do the same for you!

While adult patients especially may want to have a straighter smile, they may not want to contend with the appearance of traditional metal braces and the usually longer treatment time these require. That's why our staff at The Dentists at Orenco Station trust the ClearCorrect system. Traditional braces have their place, of course, such as when orthodontics are needed to correct an improper bite as well as a compromised aesthetic appearance. However, for patients who have a healthy occlusion and only want to present a better looking smile, ClearCorrect may be the ideal solution.
Have a Beautiful Smile with Clear Braces
ClearCorrect incorporates a series of clear plastic aligners to straighten your teeth. Our dentists work with the ClearCorrect lab to create a treatment plan based on a 3D representation of your teeth. Following this plan, ClearCorrect fabricates your personalized aligners that are designed to systematically move your teeth into their proper alignment. Your aligners will arrive at our Hillsboro dental practice in a series of sequential sets. All you have to do is wear each set for about two weeks and then move on to the next set in the series. As you progress, you'll begin to see your teeth gradually move into alignment. Our dentists will want to check your progress every six to eight weeks, but there won't be any time-consuming adjustments as regularly happen with traditional braces.
Aside from straightening your teeth, ClearCorrect invisible braces offer the added advantage of being removable. So all of the foods that are forbidden with metal brackets and wires—popcorn, chewy candy and hard foods—are perfectly fine with ClearCorrect, because you remove them to eat. Likewise, ClearCorrect braces are removed when you need to brush and floss you teeth, so you can maintain your all-important at-home oral hygiene routine during your orthodontic treatment.
Most of our patients finish with ClearCorrect after about one year. After treatment, you will need to wear a retainer for a time in order to maintain the newly acquired alignment. Ultimately though, you will have a beautiful smile that you can share and be proud of!
Call Our Office Today
If you would like more information about ClearCorrect, or if you would like schedule an appointment for any of our general, cosmetic or restorative dentistry services, contact the Dentists at Orenco Station in Hillsboro, OR. We welcome patients from our sister communities: Rock Creek, Cornelius, Forest Grove, Beaverton, and beyond.
Comments Off on ClearCorrect Invisible Braces Straighten Teeth in almost No Time
No Comments
No comments yet.
RSS feed for comments on this post.
Sorry, the comment form is closed at this time.