July 11, 2017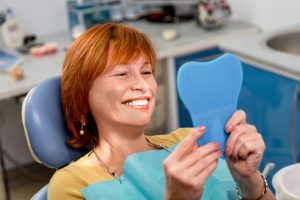 The only way to know for sure whether or not you need a dental crown is to schedule an appointment with your dentist. Dental crowns are advanced restorations used to repair teeth following significant decay or damage. They fit completely over the top of the tooth to replace the lost structure and renew function. In order to preserve the maximum amount of tooth structure, we'll only recommend dental crowns when more conservative treatments like tooth colored fillings are inadequate in repairing dental damage. During a treatment consultation, a dentist will examine your smile, capture diagnostic x-rays and images, and help you determine whether or not a dental crown is your best treatment option.

When do Dentists Use Dental Crowns?
The dentist will use a dental crown in a variety of situations. A dentist examine the damaged tooth first to ensure a dental crown is the best restorative treatment option for patients' smiles that will also preserve the highest amount of healthy tooth structure. Some of the reasons a dentist may recommend a dental crown restoration include:
Severe tooth decay or dental trauma that has caused too much damage for the tooth to be fully restored with tooth-colored fillings or more conservative options
To protect and strengthen teeth following root canal therapy
To perfect the smile as part of a cosmetic dentistry plan, a tooth-colored, ceramic dental crown may be placed
Dental crowns are also used as part of dental implant and fixed bridge tooth replacements
How are Dental Crowns Placed?
Most patients should plan to visit us for two appointments. The first appointment is the longer of the two. During this initial visit, the dentist will numb the area around the tooth. Then they will remove an even amount of tooth structure in order to allow the dental crown to fit seamlessly into the natural line and shape of the smile. Once the tooth is prepared, impressions are captured that will be used by a dental lab to craft the final dental crown. In the meantime, a temporary is placed to protect the tooth. When the dentist receives the final restoration, you'll return to exchange the temporary for the flawless, custom dental crown. In rare cases, additional appointments may be necessary in order to adjust and perfect the fit of the final dental crown.
Meet the Dentists at Orenco Station
The Dentists at Orenco Station are dedicate to providing comprehensive dental care for every member of the family. In addition to giving high quality services, we are also dedicated to helping patients learn all they need to know about dental care in order to ensure complete confidence in their treatment options. We hope this blog was helpful in explaining dental crown restoration, and our team invites you to keep up to date with our blog each month to learn more about caring for your smile. Contact us to find out more about any of our Hillsboro dental services or schedule an appointment.
Comments Off on How do I know if I Need a Dental Crown?
No Comments
No comments yet.
RSS feed for comments on this post.
Sorry, the comment form is closed at this time.