August 10, 2020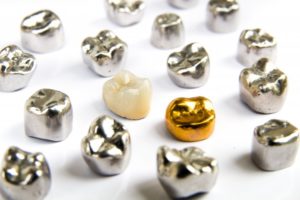 All throughout the day, your pearly whites are exposed to an onslaught of acids, bacteria, abrasion, and pressure. That's why when a weakened or broken tooth is repaired with a dental crown, it's important to choose a material that's up to the task. Thankfully, dental crowns in Hillsboro are crafted from a variety of materials depending on its placement in your mouth and your unique preferences. Here are the most common types of this popular restoration and how to choose which one is best for your smile.
Metal Dental Crowns
Metals like gold have been used to create dental crowns for a long time, and it's easy to see why. Metal dental crowns are extremely strong and durable. They can easily withstand the constant pressure that comes with chewing and talking day in and day out. Additionally, they can retain this strength even when they're thin, allowing for the preservation of more natural tooth structure. The obvious drawback to a metal crown is its visibility. However, if you're looking to repair a tooth that's in the back of your mouth and isn't easily seen, a metal crown may be the perfect solution.
Porcelain Fused to Metal Crowns
Crowns made of porcelain fused to metal offer an excellent compromise between the durability of metal and the cosmetic benefits of dental porcelain. While the metal base strengthens the vulnerable tooth, the upper porcelain layers provide the appearance of natural enamel. Unfortunately, the metallic base shows through the slightly opaque porcelain material, which can cause it to look less natural than a full ceramic dental crown. This material is best suited for restorations in the middle of your arch that need adequate durability but are also easily seen when you smile.
All-Ceramic Dental Crowns
All-ceramic dental crowns easily offer the most cosmetically appealing solution for broken teeth in Hillsboro. On top of this major benefit, dental ceramic doesn't react to hot or cold temperatures, so tooth sensitivity after the initial placement is frequently minimized. However, ceramic is more brittle than metal, so these crowns are typically thicker than other options and require more tooth preparation. In general, all-ceramic dental crowns are the ideal choice for repairing front teeth that require the best cosmetic results.
With all the different types of materials used to craft dental crowns, it can feel somewhat overwhelming trying to choose which is best for your unique smile. Thankfully, during your consultation, your dentist will be happy to review all your options with you and help you choose the perfect dental crown.
About the Practice
Drs. Brandon and Malinda Kearbey of The Dentists at Orenco Station are proud to serve the smiles of Hillsboro, OR and the surrounding communities with state-of-the-art dental care. They are each committed to continuing education in order to provide their patients the newest in dental technology and techniques. With a variety of high-quality materials for your new dental crown to be crafted from, they'll ensure that your restoration is perfect for your unique smile. To learn more about dental crowns, they can be contacted via their website or at (503) 640-4262.
Comments Off on What's the Best Dental Crown Material for Your Smile?
No Comments
No comments yet.
RSS feed for comments on this post.
Sorry, the comment form is closed at this time.