May 15, 2019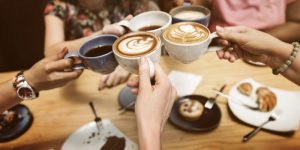 You may have heard that porcelain veneers don't stain like your natural teeth. Is that true though? People often get porcelain veneers because they can conceal a variety of cosmetic imperfections while also obtaining the brighter smile they've been dreaming of. Not only are they an effective way to boost your self-confidence, but you'll be able to enjoy your new smile for a decade or more. Read on to find out whether porcelain veneers are the exception to staining.
Porcelain Veneers
Veneers are small porcelain shells that are custom-fitted to conceal imperfections present on the front side of your teeth. They are made to match the size, shape, and color of the rest of your smile. They're a great natural-looking cosmetic solution because they reflect light in the same way enamel does. They're also made to be strong, functional, and stain resistant.
The Science of Veneers and Staining
Because porcelain veneers aren't porous like your natural teeth are, they won't stain as easily. They're not totally stain-proof though. They're coated with a light stain-resistant resin that will allow them to stay whiter, longer. Once the resin wears away because of years of use, your veneers may begin to stain. If you want your veneers to stay whiter for longer, it's best to avoid coffee, red wine, black tea, and tobacco products. To protect your veneers from staining, try drinking these beverages through a straw to keep them from directly coming into contact with your teeth. Additionally, you can rinse your mouth with water to keep the stain-causing drinks from seeping into your veneers.
Caring For Your Veneers
Taking care of your porcelain veneers can not only increase their lifespan but also keep them looking great. Here are some additional tips to keep your veneers looking as good as new:
Avoid consuming acidic foods and drinks that cause extra wear and tear.
Use whitening toothpaste.
Floss with caution so you don't put too much pressure on the veneer.
Brush, floss, and use mouthwash like you would with your natural teeth.
Making an investment in your smile is a big deal, so you'll want to make sure your porcelain veneers last. With gentle use, they can last up to 25 years, but the average life expectancy is typically 10 to 15 years. By keeping up with your oral hygiene at home and keeping your mouth clean, you can get the most out of them. Additionally, doing this will help protect your natural teeth underneath your veneers.
The first step to getting the stain-resistant smile of your dream is to schedule a consultation with your cosmetic dentist. Learn everything you'd like to know about the procedure by picking their brain and discussing what results you'd like to see. Your smile and confidence are well worth the investment!
About the Author
Dr. Malinda Kearbey has been giving patients brighter and healthier smiles since 2006. As an active member of professional associations such as the American Academy of Cosmetic Dentistry, she keeps up with the most recent treatments and technological advancements in her field. She focuses on providing her patients with the high-quality care they can trust. For questions or to schedule a consultation for porcelain veneers, visit The Dentists At Orenco Station's website or contact 503-640-4262.
Comments Off on Are Porcelain Veneers Stain-Proof?
No Comments
No comments yet.
RSS feed for comments on this post.
Sorry, the comment form is closed at this time.