February 10, 2018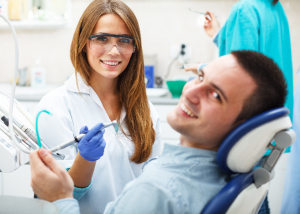 Every month, you pay premiums for dental and health insurance to keep your mouth and body healthy. While you may believe that they are one in the same, there are clear differences between the two. Although both cover necessary treatments, you cannot use your dental insurance for medical purposes and vise versa. To use your dental coverage correctly and to maximize its value, your Delta Dental dentist in Hillsboro can help.

What is Dental Insurance?
Dental coverage focuses on preventing issues from developing in the first place to reduce the long-term cost for care through routine services; whereas, health insurance has less of a focus on prevention and is more widely used to treat problems after they have arisen. As a result, most dental insurances cover preventive care in full or for little to no out-of-pocket cost.
In addition to your monthly premiums, you must also pay a deductible each year before your benefits will begin to cover their portion of the treatments. After it has been paid, you will not only benefit from affordable cleanings, checkups, and other preventive services, but lower rates for restorative care.
You are given a yearly allowance to use toward restorative care, like root canals and tooth extractions. Depending on your specific policy, your insurance can pay for as much as 80% of the cost. In some cases, your policy may also cover a portion of elective procedures, like orthodontics and cosmetic dentistry.
To maximize the value of your policy, it is often recommended that you choose a dentist who is in-network with your insurance.
What's an In-Network Dentist?
Most insurance companies recommend that you choose a dentist who is in their network. This means that they have pre-negotiated rates for services, allowing the cost of care to be more affordable. Although it is often advised to choose one in-network, you still have the freedom to choose one who is not.
While many tend to believe that using one who is not in-network will lead to a large dental bill, this is not always the case. When using one who is out-of-network, you will have to pay the difference between the dentist's fees and the allowable amount from your insurance company.
How Can I Make the Most of My Dental Insurance?
Your dental benefits expire at the end of each year. They do not carry over for accumulation. To ensure that they do not go unused, it is best to visit your dentist twice a year for a preventive appointment. In addition, do not delay getting the care that you need. By treating an issue early, it will help to reduce the long-term cost for care.
Your dentist will work on your behalf with the insurance company to file the necessary claims and paperwork to keep your care affordable.
About The Dentists at Orenco Station
The Dentists at Orenco Station is committed to providing affordable, high-quality care to families in the community. As an in-network dentist for many PPO plans, we will help your family achieve and maintain healthy, beautiful smiles. If you have any questions about the insurances we accept, please contact our office today.
Comments Off on Learn More about Your Coverage with Your Delta Dental Dentist in Hillsboro
No Comments
No comments yet.
RSS feed for comments on this post.
Sorry, the comment form is closed at this time.