April 25, 2018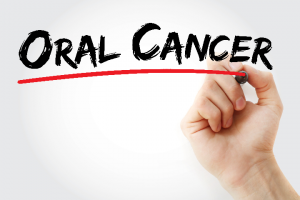 To prevent against tooth decay and gum disease, you maintain your oral hygiene habits at home and visit your dentist in Hillsboro twice a year, but did you know that there may be another threat lingering in your mouth? Over 49,000 Americans are diagnosed with oral cancer every year. Unfortunately, those who develop it have a little over a 50% 5-year survival rate. All too often, the cancer goes undetected and undiagnosed until it has reached the advanced stages or metastasized to other areas of your body. To help promote early detection, it is best to learn your risk factors for oral cancer and to undergo a regular screening.

Your Risk for Oral Cancer
It is estimated that one person every hour dies from cancer of the mouth or upper throat. For those who do survive, they are often left with facial disfigurations and difficulty speaking or chewing. Although anyone can develop oral cancer, there are certain risk factors that increase your odds for it, such as:
Gender: Oral cancer is nearly twice as likely in men than women.
Age: Two-thirds of those with oral cancer are over the age of 55.
Genetics: Those with a family history of the cancer are more likely to develop it.
Tobacco Use: 80% of people who have oral cancer use tobacco.
Alcohol: 70% of oral cancer patients drink alcohol in excess.
HPV: 25% of those with oral cancer are infected with the human papillomavirus.
Promoting Early Detection
The key to finding the cancer early relies on regular oral cancer screenings in Hillsboro. In fact, 80% of those with it are diagnosed by their dentist. During your routine visits for a cleaning and checkup, your dentist can perform a simple screening to look for cancerous or precancerous cells.
In addition to your dental appointments, you can help to detect the early signs of it at home. If you notice any changes to your lips, cheeks, mouth, or tongue in between appointments, it is important to schedule a screening right away. It is best to regularly look for:
Sores or irritation that will not heal.
Red or white patches.
Pain, tenderness, or numbness.
Lumps, rough patches, or thickening of the skin.
Difficulty chewing, speaking, or swallowing.
Difficulty moving your jaw or tongue.
Changes to your bite or the alignment of your teeth.
Schedule Your Screening Today!
If you have not had an oral cancer screening within the last 6 months, now is the time to schedule an appointment with your family dentist in Hillsboro.
About The Dentists at Orenco Station
The Dentists at Orenco Station strive to help our patients achieve overall well-being through optimal oral health. We offer complete dental services to keep your teeth and gums healthy. In addition to general dentistry, we also offer regular screenings for oral cancer as part of our preventive services. We will conduct the examination you need to look for areas of concern. If you need an oral cancer screening, contact our office today to schedule an appointment.
Comments Off on Dentist in Hillsboro Highlights Signs of Oral Cancer
No Comments
No comments yet.
RSS feed for comments on this post.
Sorry, the comment form is closed at this time.