April 17, 2015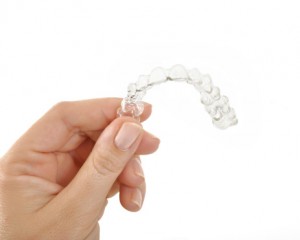 Everyone wants straight, healthy teeth and a confident smile that they're proud to share with the world. Unfortunately, not all of us are lucky enough to have perfectly straight teeth, and metal braces don't fit everyone's lifestyle. If you are one of the millions of teens and adults who longs for a more balanced smile without metal brackets and wires, The Dentists at Orenco Station want to help. Our Hillsboro, OR dental office happily offers an alternative to traditional orthodontics: ClearCorrect clear braces.
Benefits of ClearCorrect Clear Aligners
One of the most obvious benefits of ClearCorrect clear braces is their aesthetic value. For image-conscious adolescents and sophisticated professionals, the thought of wearing conspicuous metal braces just isn't appealing. With clear plastic aligners, no one has to know that you are undergoing orthodontic treatment except for you and your dentist.
In addition to their cosmetic advantages, clear braces are vastly more comfortable than traditional braces. You won't have to worry about a broken wire or bracket poking your lip or cheek lining. Instead, enjoy the smooth contours of your custom aligners.
Because your ClearCorrect clear braces are easy to remove, there are no dietary restrictions associated with treatment. Continue to enjoy your favorite foods throughout the duration of your treatment. Your teeth are also much easier to clean with clear aligners than they are with metal braces. Simply brush and floss as you normally would and replace your aligners when you're finished.
Am I Candidate for Clear Braces?
A consultation with our experienced, highly trained team will determine your candidacy for ClearCorrect clear braces and any of our other cosmetic dentistry services. Simply give us a call today to schedule your visit with Drs. Brandon and Malinda Kearbey, your trusted Dentists at Orenco Station in Hillsboro, OR. We genuinely look forward to helping you achieve the gorgeous, healthier smile you've always wanted without any metal brackets or wires. Our state-of-the-art dental practice warmly welcomes teens and adults to explore their options with ClearCorrect invisible braces. We proudly serve families from throughout Hillsboro and the surrounding areas, including Forest Grove, Beaverton, Cornelius, Rock Creek, and beyond.
Comments Off on Straighten Your Teeth without Metal Wires: Clear Braces in Hillsboro, OR