June 13, 2018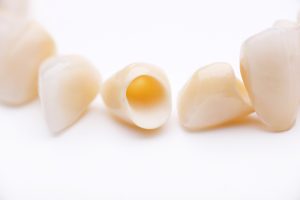 Before you get started with a cosmetic or restorative dentistry plan that includes dental porcelain, you may be thinking, "Isn't porcelain fragile?" The answer is, "Yes and no." While a porcelain doll or a porcelain glass may be fragile, a porcelain knife is strong and so are porcelain restorations. The key is using the highest grade porcelain and cementing it into position properly, so the underlying tooth structures provide support and strength. In fact, porcelain veneers, crowns, bridges, and other restorations are just as strong if not stronger than your healthy tooth enamel, and they can be shaded to perfectly match these natural structures.

Types of Porcelain & Tooth-Colored Materials Available
Did you know there are actually numerous types of porcelain available? Actually, a better term would be ceramics. Some of the most often used forms of dental porcelain include:
Feldspathic porcelain – a quartz based product that has been used for decades to craft porcelain veneers
Glass leucite porcelain – a mixture of ceramic and glass that has most often been used for crowns and bridges
Zirconium porcelain – zirconium dioxide is the tooth-colored, ceramic byproduct of the chemical combination of zirconium and oxygen, and they are frequently covered in a feldspathic porcelain and used for cosmetic and restorative treatments
What You Should Ask During Restoration Planning
During your dental restoration or cosmetic dentistry consultation, you should be prepared to ask the right questions to ensure you understand your options and feel 100% confident before beginning your treatment plan. Some questions you may want to ask during a dental treatment consultation include:
What materials are available?
How long will my restoration last?
How do I care for my restoration?
How does the difference in material effect the cost of my restoration?
Do certain porcelain materials take longer to receive from the dental lab?
Meet the Dentists at Orenco Station
The Dentists at Orenco Station are dedicated to helping Hillsboro dental patients keep their smiles healthy, repair dental damage with conservative, cosmetic restoration options, and enhance the appearance of their smiles using quality porcelain treatment options. If you want to learn more about dental crowns, veneers, and other treatments that utilize quality porcelain, call our office to schedule a consultation today. We will be happy to examine your smile, discuss treatment options, and help you find the best possible materials to repair or enhance your smile.
Comments Off on If Porcelain Dolls are Fragile, Why are Porcelain Restorations Durable?
No Comments
No comments yet.
RSS feed for comments on this post.
Sorry, the comment form is closed at this time.