November 19, 2015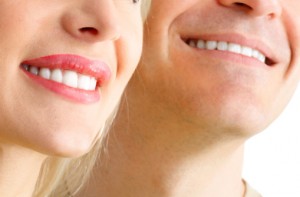 If a picture paints a thousand words, then your smile speaks volumes. It can send an unspoken message of friendliness, confidence and joy. Unless, of course, you're embarrassed by your smile and tend to hide it. In that case, the message isn't sent and certainly not received. To reveal your beautiful smile, Dr. Brandon Kearbey and Dr. Malinda Kearbey at The Dentists at Orenco Station in Hillsboro, OR, may recommend permanently hiding your teeth behind porcelain veneers.

Porcelain veneers, also known as dental veneers or just veneers, are very thin layers of translucent dental porcelain that are adhesively bonded to the front side of teeth that people see when you smile. Veneers are individually designed to correct whatever flaw is compromising the appearance of each tooth. For example, you may have teeth that are irreversibly stained and other teeth that are chipped, broken, misshaped or irregularly spaced. Individually, these imperfections would require a number of different treatments from teeth whitening to cosmetic bonding, crowns or even orthodontics. But with porcelain veneers, you can fix each flaw with one cosmetic treatment.
What to Expect During Your Veneer Procedure
We can usually complete the dental veneer procedure in two conveniently schedule appointments. At the first, one of the Hillsboro cosmetic dentists will need to remove a small amount of enamel from each tooth that will have a veneer. The amount removed is about equivalent to the thickness of a veneer. Because of this step, having porcelain veneers is an irreversible cosmetic treatment. Once prepared, we'll take an impression of your teeth that our skilled dental lab will use to make sure your veneers fit closely to your altered teeth. We'll also use these impressions to create temporary veneers that you'll wear until your permanent ones are ready. The temporaries protect your prepared teeth and allow you to adjust to the feeling of veneers in your mouth.
In about two weeks, you'll return to The Dentists at Orenco Station where we'll remove the temporaries and attach your custom-crafted permanent porcelain veneers. To maintain the beauty of your new smile, be sure to brush with a non-abrasive fluoride toothpaste and floss, too. And while porcelain veneers are quite strong, but they are not indestructible. Avoid using them to bite down on hard objects such as bones, nuts and ice. With a bit of tender loving care, your porcelain veneers will give you years and years of beautiful smiles.
Call Our Office Today
If you would like to learn more about porcelain veneers, or to schedule a consultation about this or any of our other cosmetic dentistry services, then call The Dentists at Orenco Station in Hillsboro, NC. We also serve the communities of Forest Grove, Beaverton, Cornelius, and Rock Creek.
Comments Off on Porcelain Veneers in Hillsboro
No Comments
No comments yet.
RSS feed for comments on this post.
Sorry, the comment form is closed at this time.