December 17, 2014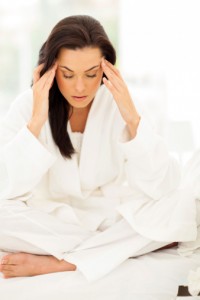 Do you often have unexplained head pain and jaw stiffness? You could be suffering from temporomandibular joint disorder (TMJ). Millions of people suffer from the headaches, neck pain, and joint and muscle soreness of TMJ disorder without knowing it. Untreated TMJ disorder can make it difficult to eat or even speak. If you suspect that you may have developed a TMJ disorder, make an appointment with Drs. Brandon and Malinda Kearbey for a TMJ disorder evaluation and treatment plan today. They can determine if your pain and discomfort stem from a TMJ disorder. The Dentists at Orenco Station proudly serve patients of all ages throughout Hillsboro, OR, Forest Grove, Beaverton, Cornelius, Rock Creek, and nearby communities.
What is TMJ Disorder?
TMJ disorder is a group of degenerative conditions involving the temporomandibular joint and its surrounding muscles. This area is responsible for the jaw movement necessary to talk and eat. The joint slides and rotates just in front of your ear, connecting the temporal bone (side of the skull) with the mandible (lower jaw). TMJ disorder can fall into one of three categories:
Myofascial pain: discomfort or pain in the muscles of the jaw, neck, and shoulders
Injury: resulting from a dislocated jaw or displaced disc
Degenerative joint disease: rheumatoid arthritis or osteoarthritis in the jaw joint
What are the Signs of TMJ Disorder?
Jaw pain or soreness that is specific to a certain time of day
Jaw pain when you chew or yawn
Clicking or popping sounds when opening or closing the mouth
Difficulty opening and closing the mouth
Locked or stiff jaw
Sensitive teeth in the absence of infection or gum disease
An earache without an ear infection
Who's at Risk for Developing TMJ Disorder?

No one knows the exact cause of TMJ disorder. However, TMJ disorder does affect twice as many women as men. Trauma to the jaw or jaw joint can sometimes play a role in development of the disorder, but in most cases the cause of the disorder is unknown. However, stressful situations can aggravate the symptoms. The discomfort you experience is caused by the overuse of the jaw joint muscles, especially if you clench or grind your teeth (bruxism). These excessive habits can tire the jaw muscles and lead to the associated pain and discomfort in the head and neck.

TMJ Disorder Evaluations in Hillsboro, OR

The Dentists at Orenco Station can evaluate and treat you for TMJ disorder. Many patients have been able to eliminate and even reverse their TMJ disorder with non-invasive oral appliance therapy. You can make an appointment with Drs. Brandon and Malinda Kearbey for immediate TMJ symptom relief with a custom oral appliance today. Drs. Brandon and Malinda Kearbey are highly qualified general and restorative dentists. The Dentists at Orenco Station proudly serve families throughout Hillsboro, OR, Forest Grove, Beaverton, Cornelius, Rock Creek, and the surrounding areas.

Comments Off on Could Your Headache and Neck Pain Be Caused By a TMJ Disorder?

« Newer Posts — Older Posts »